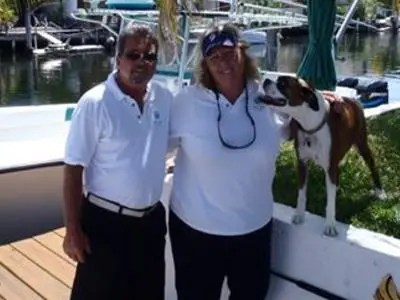 Captain Dawn Pollard Mergelsberg's Life and Career
Born and raised in Miami Beach, Captain Dawn Mergelsberg has always had an affection for the sea. As a little girl, she was constantly on the water and by the time she was a teenager, she knew where she was destined to be. Captain Dawn is a person who has a passion for helping others. Throughout her life, her continuous care and compassion have provided comfort and peace to those who are in need. Her treatment for other people is immeasurable.
Captain Dawn has been a licensed Coast Guard 100-ton captain for more than 30 years. She has run her own Deep Sea Charter Fishing business, Head and Tail Charters Inc. with a 55 foot F/V Helen C for a number of years. It wasn't always about fishing—it was always about the people. Whether it was a fishing charter, burial at sea, or an evening dinner cruise, customer satisfaction is her biggest gratification.
Now after recently burying her father and younger brother at sea, Captain Dawn sees the importance of providing the same service to others as her own family: "an affordable, environmentally safe and venerable final setting for your loved ones"
For those who are looking for a small private final send-off, you can trust Capt. Dawn's New Choice Burials to help you. We will surely provide a dignified farewell service with the utmost integrity.